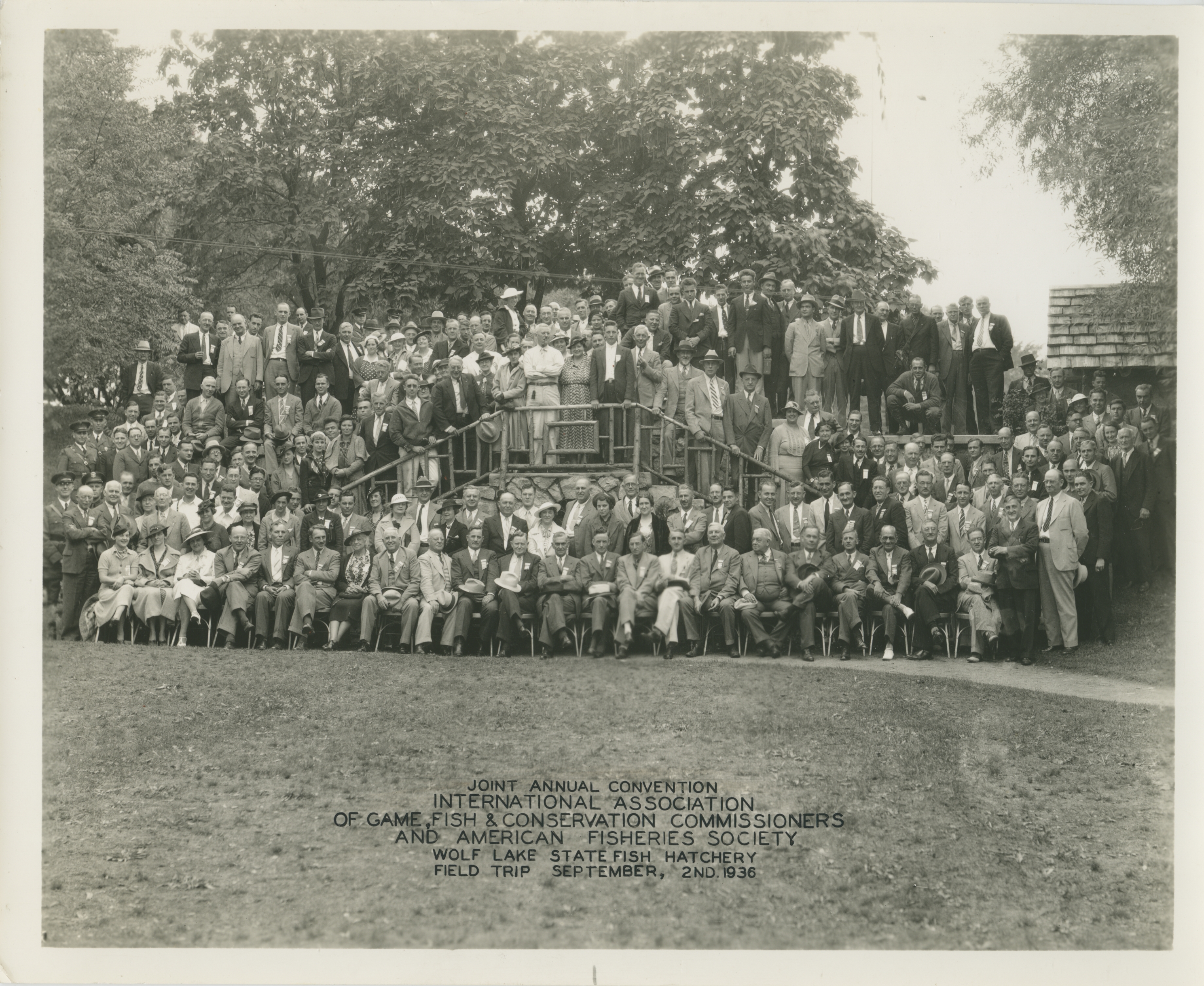 Wolf Lake State Fish Hatchery Field Trip - Joint Annual Convention of the International Association of Game, Fish and Conservation Commissioners and the American Fisheries Society 9-2-1936 Credit: Courtesy Archives of Michigan.
Attached is a photo of the Wolf Lake State Fish Hatchery field trip for the 66th American Fisheries Society Meeting that was held jointly with the International Association of Game, Fish and Conservation Commissioners. The field trip was held on 9-2-1936 and the photo location still exists at the hatchery.
The 8th Biennial Report of the Michigan Department of Conservation as the following description of the meeting on Page 136 and the photo was on Page 120:
Michigan was privileged to entertain the 13th Annual Convention of the International Association of Game, Fish and Conservation Commissioners and the 66th Annual Meeting of the American Fisheries Society at Grand Rapids, August 31 to September 4, 1936.
One of the highlights of the convention was a joint field trip on September 2, which included visits to the W.K. Kellogg Bird Sanctuary near Gull Lake, and to the Wolf Lake State Fish Hatchery near Kalamazoo where a complimentary luncheon was served by the Department of Conservation. About 350 delegates weer in attendance representing 31 states, Canada, England, Mexico, Brazil, Cuba, and Japan. Thirty years ago, the meeting of the American Fisheries Society was held in Michigan, also at Grand Rapids.
My first encounter with the American Fisheries Society (AFS) was in my hometown of Rochester, New York, in 1951. The society was conducting its 81st Annual Meeting there, and I was home for the summer, having just completed my junior year at Cornell University. I was enrolled in Cornell with the goal to graduate with a bachelor of science degree in fisheries. So, when I read in the newspaper that the AFS was in town holding their meeting, I told my mom that I was going downtown to check it out and that I probably wouldn't be home for supper. I hopped on a bus for the downtown Rochester Sheraton Hotel, where the meeting was being hosted.
Once there, I sauntered up to the registration desk in the hotel lobby and asked what it cost to attend the meeting. A nice lady behind the desk handed me a registration form, the meeting agenda, and some brochures and remarked that buses were about to leave for a tour of some state fisheries facilities and also for a visit to a local winery.
Of course, I had no intention of registering for the meeting because I was a dirt‐poor college student. However, when I left the hotel, sure enough, there were folks boarding tour buses without any kind of ticket or boarding pass. I thought to myself "ah ha!" and began to mingle with the group, boarded the bus, and soon found that I was on my way, in the company of multiple members of AFS, for a day of touring.
It was a magnificent day and I had a great time; we stopped at a hatchery, had a free lunch, and were given a demonstration by David Haskell of an innovative backpack electroshocker for collecting fish in streams.
I spent the day eavesdropping on conversations between fisheries professionals and heard great stories about their various activities and their accomplishments. To a young neophyte fisheries student, it was an awesome experience.
The trip culminated with a visit to a New York winery where I observed the subtle transformation of a scholarly, soft‐spoken group of scientists into a robust, song‐singing band of colleagues enjoying each other's friendship. I was impressed! I wanted to be one of them.
When I told my mom about my trip and meeting real fisheries scientists, she wasn't so impressed—I think she smelled wine on my breath.
After graduating from college, I worked for several years at a commercial hatchery in Pennsylvania, paid off my modest (in those days) student loan, and joined the Fish and Wildlife Service in 1956. Finally, in 1958 I became a dues‐paying member of the AFS.
The rest is history and I won't bore you with the details because it could lead to a lengthy trilogy. I look fondly at my Golden Membership Award, presented to me in 2007, for a half‐century of being part of AFS. I wish for all of you the same fantastic experience I've had—of a career filled with colleagues who became lasting best friends.