Learning from the Past, Meeting Challenges of the Present, Advancing to a Sustainable Future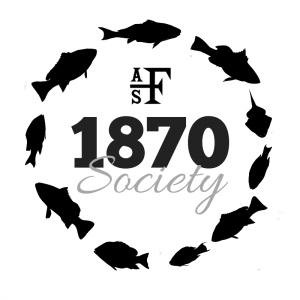 Celebrating 150 years of fisheries science and conservation allows us to honor the past and set the course for the future. Over the next 2 years, AFS is organizing activities to recognize this milestone. One of the exciting ways we'll be recognizing this milestone is with the launch of The 1870 Society. The 1870 Society is a giving society to recognize and encourage contributions from donors in support of the mission and programs of AFS. Named for the year AFS was established, The 1870 Society pays homage to the impressive history of AFS and establishes a channel for our community to raise financial resources to safeguard the future.
Funds generated from the 1870 Society are investments. This support will be invested in important areas such as education, training, professional development, and policy. In addition, funds raised through The 1870 Society will be used to support improvements that will directly benefit the service we provide to our members and community. The members and supporters who join The 1870 Society are champions. Your generosity will make the difference for AFS, our members, and the field of fisheries. The 1870 Society members are committed stakeholders helping us to fund strategic plan initiatives that might otherwise be delayed or unfunded.
[su_button url="https://secure.fisheries.org/MemberResponsive/Donations/Give_1870_Society.aspx" target="blank" style="soft" background="#145593″ size="8″ center="yes"]Join the 1870 Society[/su_button][su_spacer]
---
[su_spacer]MEMBER LEVELS
MEMBERS — $150.00+
Certificate of appreciation
Recognition in multiple channels at AFS, including Fisheries magazine, the annual report, and the AFS website
Quarterly newsletter from AFS keeping members up-to-date on the latest happenings of AFS
FOUNDING MEMBERS — $500.00+
Invitation to special 1870 Founding event celebration
Founding Members are recognized in perpetuity as Founding Members of the 1870 Society
Founding Members will receive a commemorative keepsake
Will be recognized at the Annual Business Meeting during the AFS Annual Meeting
PRESIDENT'S CIRCLE — $1,000.00+
These members will receive all the benefits of the Members and Founding Members level
Invitation to attend the Governing Board Reception at the Annual Meeting
Conference call with Executive Director and President
Free guest registration at the AFS Annual Meeting
Opportunity for reserved seating or early access to special events at the AFS Annual Meeting (for example the Grand Networking Event)
LEGACY LEADERS
Certificate of appreciation and a letter from the Executive Director
Recognition in multiple channels at AFS, including Fisheries magazine, the annual report, and the AFS website
Those willing to leave a significant gift to AFS will be recognized in a unique way based on discussions between AFS and the donor
For more information about Planned Gifts at AFS visit https://fisheries.org/about/support-afs/planned-giving/